Simona Sovič
Published: January 28, 2020
Edited: August 12, 2022
From Ljubljana to the Alpine region below the Julian Alps, you will reach Bled, the magnificent Alpine resort. Ascend the
old castle
perched on top of a steep cliff above the glacial
Lake Bled
. The castle terraces offer spectacular views of the lake and its tiny island in the middle. Take a boat
ride with a Pletna
– traditional boat made by locals and reach the only true island in Slovenia. Ring the 'fortune bell' and soak up the sun, peace and fresh mountain air. It is a perfect location for an ideal
wedding in Slovenia
. Do not forget to check good
online wedding registries,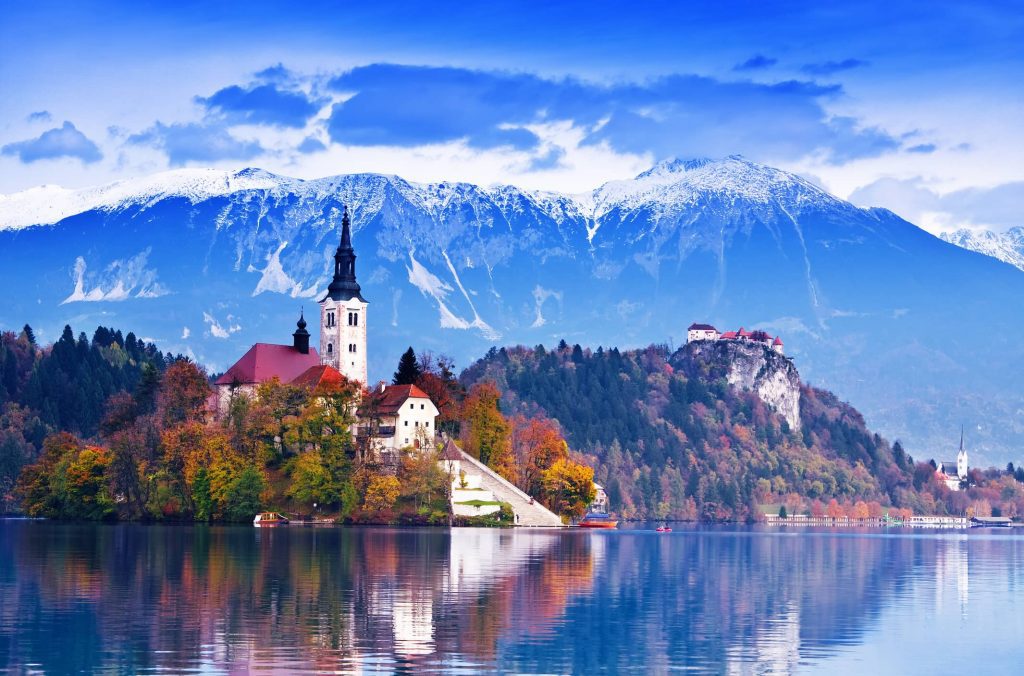 E-Bike Tour of Vintgar Gorge
The gorge is a popular tourist resort in Slovenia. It has stunning natural views and landscapes. Thousands of tourists come here to see the stormy river and numerous waterfalls. Meet in central Bled to begin your self-guided 4-hour e-bike experience of Vintgar Gorge. After a brief orientation session for the eBike, take off to explore the stunning landscape around Vintgar Gorge. Avoid the traffic, parking and queues, and soak in the views of the rolling countryside and beautiful nature of the area. With the eBike propelling you up hills, enjoy the views without breaking a sweat. After visiting the gorge, pause for a Bled cream cake at a local pastry shop before making your way back to Bled.
Postojna Cave & Predjama Castle
See the dramatic stalactite and stalagmite formations of
Postojna Cave on a tour from Bled
. Explore Slovenia's second largest cave system, and then visit historical Predjama Castle, built within the mouth of a cave in the Inner Carniola region. Take a guided tour of the cave system by electric train, and then walk through the beautiful passages and chambers of spectacular drop stones, pillars, limestone curtains and other extraordinary natural wonders. Continue to the idyllic village of Predjama and visit the Renaissance castle built within the mouth of a cave. Admire the fairytale setting and architecture of the medieval fortress of Predjama Castle, famous as the former seat of the knight Erazem Lueger. Marvel at the dramatic setting among the hills of the Inner Carniola region.
Water Rafting on the Sava River
Enjoy this easy
rafting experience
on the beautiful Sava Dolinka River close to Bled. After a safety briefing, receive your full rafting gear, including a wet suit, life jacket & a helmet, then take a minivan transfer to the start of the rafting trip. This river trip is suitable for families with small kids and anyone who would like to have some fun on some easy and slow II & II+ class rapids. The whole trip takes around 2.5 hours and you spend between 1-1.5 hours rafting on the river. During the trip, the guide can take pictures for you which you can pick up later on if you like. If you are a first-timer you do not need to worry, as your instructor will teach you the basics and will take care of your safety.
Emerald River Day Adventure
This tour
starts with a mini-van drive around Triglav National Park and right into the heart of the Julian Alps. There's approximately 2.5 hours of scenic drive throughout the whole day with stops every 10-30 minutes for points of interests and activities (hiking, swimming, and rafting - all optional). There are 3 major and very rewarding hikes of moderate grade involved throughout the day, around 30-45 minutes each. Any or all of these hikes can be skipped by request of individual guests who can wait by the tour mini-van, which is always parked on a scenic spot. Major landmarks you pass by on this adventure day tour are Lake Bled, Karavanke Mountain Range, Kranjska Gora, Jasna Lake, Russian Chapel, Prisank Mountain Window, Vrsic Mountain Pass, Ajdovska Deklica, Soca River Source, Soca River, Velika Korita Soce, Bovec, Kobarid, Boka Waterfall, Kozjak Waterfall, Most na Soci, and Mangart Saddle. The tour is a great introduction of the greater area of Triglav National Park and Julian Alps Mountain Range. If there's a particular sight, landmark or attraction you wish to see, tell your guide so they can point it out. Tours and adventures including Emerald River do not have any kind of firm or certain routes outlined. The itinerary is made by the local, English speaking, professional guide whose decisions are made according to the weather, road, trail, type of the group and special events, in order to provide the safest and most fun experience for each day.
Triglav National Park Tour from Bled
Discover the most spectacular natural treasures of Slovenia on a
full-day tour of Triglav National Park
. Enjoy activities such as hiking to panoramic view points and wild swimming in natural bodies of water. Get back to nature and explore Triglav National Park on a full-day tour by air-conditioned minivan from Bled. Journey into the heart of the Julian Alps on an approximate 3.5-hour scenic drive with stops every 10-30 minutes to see points of interest. Take part in 3 nature hikes of around 30-45 minutes. Choose to skip any, or all, of these hikes if you prefer and wait by the minivan in a scenic spot. Get the chance to try wild swimming to refresh yourself. Visit major landmarks such as Lake Bled, Lake Bohinj and the Pokljuka plateau. Be amazed by the Vintgar Gorge, Alpine Radovna valley and pretty village of Mojstrana. Express your wish to see a particular attraction to your guide and they will happily point them out during the day.
Trip to Venice from Bled
Depart Ljubljana
or Bled in the morning and journey to the
historic city of Venice
. Explore the beauty of the canals and monuments of Venice on a day trip with an English-speaking guide. Upon arrival, stroll the narrow streets and old piazzas, and learn about the most significant buildings and monuments. Discover how the city was built on swamps to become one of the most enlightened cities of the western world. See the legendary landmarks of Piazza San Marco (St. Mark's Square), such as the Byzantine cathedral and Doge's Palace. Hear legends about Casanova and Marco Polo, see paintings by great Venetian artists and sculptors and admire the world-famous Rialto Bridge over the Grand Canal. Enjoy some free time for your own independent Venetian adventure, where you can discover medieval streets in tucked-away corners before the return journey to Ljubljana or Bled.